Pneumatic pinch valve for powdery food
What is powdery food ?
Food powder or powdery food is the most common format of dried solid food material that meets specific quality standards, such as moisture content, particle size, and particular morphology.Common powdery food products include milk powder, tea powder, cocoa powder, coffee powder, soybean flour, wheat flour, and chili powder.Powders are particulate discrete solid particles of size ranging from nanometres to millimetres that generally flow freely when shaken or tilted. The bulk powder properties are the combined effect of particle properties by the conversion of food products in solid state into powdery form for ease of use, processing and keeping quality.Various terms are used to indicate the particulate solids in bulk, such as powder, granules, flour and dust, though all these materials can be treated under powder category. These common terminologies are based on the size or the source of the materials.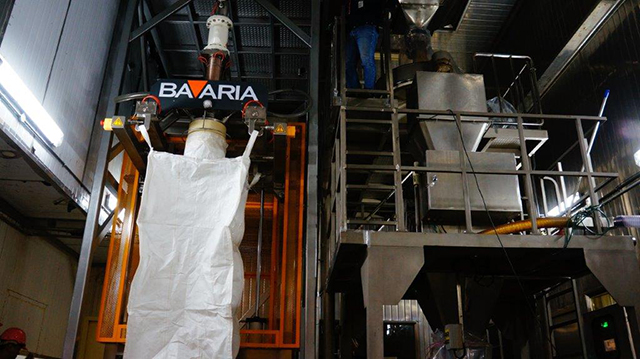 How to control the pinch valve for powdery food?
Usually the powdery food flows based on the gravity, at this moment , pinch valve as a shut off device, it must be kept in close position. But CSF pinch valve is normally open. If we keep it inflated, the valve will stays closed.
In order to stay closed, there is neccessary to equip with a solenoid valve, pressure regulator and quick exhaust valve to help control it.
Pressure regulator make sure the air into the valve is within the working range.
Solenoid valve is controled by PLC to open and close the valve,
Quick exhaust valve can speed the air release to make the rubber hose rebound quickly.
If you want to learn more how to control the pinch valve, please feel free to contact with BOC.

How to choose the pinch valve rubber sleeve for powdery food ?
In general, there are some tips for choice of rubber sleeve's material.
1.Rubber's material must suitable for the food, there is no corrosion or precipitation of harmful substances.

2.Rubber material can be natural rubber , EDPM , NBR , silicon rubber ......

3.Try to make the inner rubber's color which contact with the food be white if available.

4.The operating pressure must less than 8.5bar.

5.The valve socket or body which contact with the food must be food grade stainless steel to avoid pollution.